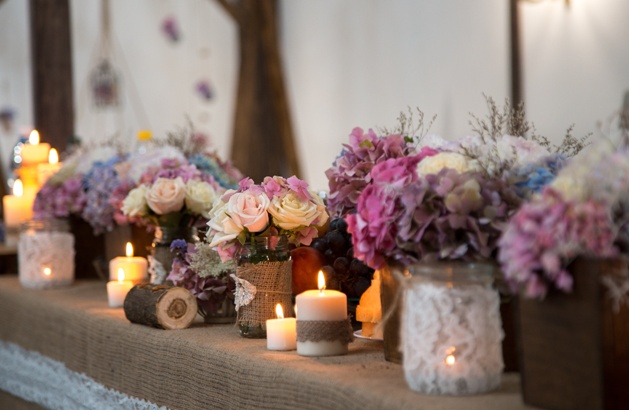 Getting ready for the big day is a process that's filled with excitement, dreams, expectations, and, of course, a lot of planning and hard work. Every bride wants this day to be perfect – just like she had imagined it when she was a little girl.
What's more, every bride wants her wedding day to be a reflection of her personality, of the relationship she has with the groom, and of their vision of life as a family.
But how to achieve this personal touch when almost every aspect of the wedding has to be taken care of by professionals? I mean, you can sew your wedding dress, but it will take a lot of time and efforts, plus you must have some sewing background…
There is, however, one thing that you and the groom can actively participate in without worrying about having previous experience or any special skills. We have gathered especially for you some easy DIY wedding flower ideas that will help you add that personal touch to your wedding, making you feel a true part of the wedding planning process and saving you money!
Herbal centerpieces
Have you considered using herbs instead of flowers for the table centerpieces? This is an easy project that you and the groom can participate in by growing some of your favorite herbs in the months that precede the big day, taking the wedding planning to a whole new level. You can even grow them from seeds at your home – what a nice way to see the new life flourish before your eyes and then, when the time comes, all you have to do is just plant them in beautiful pots, matching your wedding theme, and astonish your guests at the wedding!
DIY bridal bouquet
Making your own bridal bouquet (and asking your bridesmaids to help you with theirs) is such a lovely way to spend some unforgettable moments with your bridal party! Don't miss this opportunity and make sure you ask your photographer to shoot every step of the process so that you end up with both some personally arranged DIY bouquets and some great memories!
Create samples
When it comes to DIY flower arrangements, boutonnières, centerpieces, etc, it's always a good idea to create a sample for everyone to look at when taking care of the rest. Needless to say, such DIY projects require a lot of helping hands but that's what family and friends are for, isn't it?
Set your imagination free
Why bothering with a DIY project (for such an important event at that) if you don't set your imagination free? Yes, advice is almost always welcome, but you should follow your sixth sense and accept only the advice that feels right to you. If you think it will be a great idea to mix fruit and vegetables with your flower arrangements, go with it! It is your wedding, after all…
Source: hwp
Posted in
Windsor Ontario Weddings
Tags:
2012 Weddings